1st Annual
International Risk Management Conference
"Current Challenges in Finance"
Friday, August 11, 2017
8:30 AM to 3:30 PM
Shanghai Marriott Hotel City Centre
555 Xi Zang (Middle) Road
Huagpu District
Shanghai 200003
China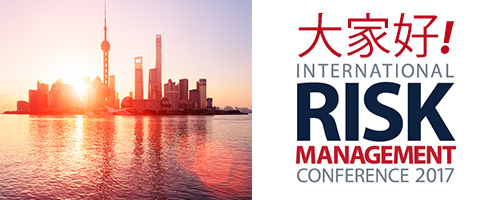 Dear UConn Alumni and Friends,
Welcome!
Over the past five years, since 2012, the UConn Financial Risk Management program has successfully hosted the Annual CT Risk Conference, which has been well received among the UConn alumni, financial firms and the various corporations in Connecticut. With the increasing number of alumni in China each year, it is time for us to go global! We have decided to host our first international financial conference focusing on "Current Challenges in Finance" in Shanghai this summer. Several outstanding speakers in the financial industry will be joining us to share their expertise and to discuss the current financial markets in China so that you can discover more career opportunities.
Speakers include:
Gabriel Wildau, Bureau Chief for The Financial Times addressing key financial issues
James Lin, Senior Manager Ernst & Young addressing regulatory changes and emerging risk management practices
We also want to have a panel of our alumni discussing their work experience once back in China. Please let me know if you would like to participate in this important discussion as a panelist.
We will also be hosting an alumni get-together the night before( August 10) at the same hotel( Marriott Shanghai City Centre), and would like to see you there.
We are looking forward to seeing you at our conference! Dr. Chinmoy Ghosh and Mr. Jud Saviskas will also be there. There is no charge to attend!
Please go to international risk management conference to register for both events.
Sincerely,
Jiajia Chen
International Program Manager
Risk Management Programs
203.251.0186
尊敬的各位UConn 校友及朋友们,
大家好!
在过去的四年里,自2012年起, UConn 金融风险管理项目每年都在美国康涅狄格州举办金融风险年会。该年会得到了在美校友以及各类金融企业、公司的广泛关注、支持和认可。随着UConn校友在中国的逐年增加, 我们决定在上海举办第一届主题为" Current Challenges in Finance"的国际金融会议。我们很荣幸地邀请到金融或相关领域的专家作为我们的演讲嘉宾。嘉宾们将与大家分享他们所在领域的机遇与挑战,讨论中国的金融市场现状,从而帮助大家发现更多的就业机会。
演讲嘉宾包括:
Gabriel Wildau, Bureau Chief for The Financial Times 论金融业的主要问题
James Lin, Senior Manager, Ernst & Young 论当前政策法规的变化以及新兴风险管理的实践
同时,我们也将设置一个校友们分享回国的工作经验的小组讨论环节。
如果您有兴趣,请尽快联系我们。期待您的参与!
八月十日(会议前一天)我们将于上海万豪城市中心酒店举行校友聚会。欢迎大家的光临!
Dr. Chinmoy 和 Mr. Jud Saviskas 也会出席校友聚会以及本次金融会议。本次活动对校友没有任何费用,但是需要您的注册。
注册网站如下:international risk management conference. 
Sincerely,
Jiajia Chen
International Program Manager
Risk Management Programs
203.251.0186